Well, who got their
SHOPPING
on at
THE CAT'S PAJAMAS
release party? What did y'all get? I'm loving the entire release. I hope to have more projects to showcase really soon using more of the stamps. I also have a big plan for something cute with the
ORNAMENTS
die! They all have gotten me a little bit pumped for some pre-Christmas cheer (I know, I'm weird like that!).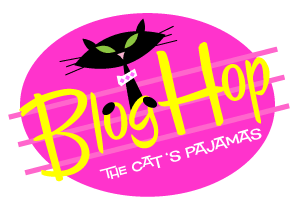 So today, the Cat Pack has one last dose of inspiration--our new release
BLOG HOP!
The hop started over on
NANCY'S BLOG
and if you made it here from
NOELLE'S BLOG
, you are moving along in the right direction!
I am in
LOVE
with the new
DOTS CutUps Die
. I had cut it from the green cardstock just as soon as I received it just to make sure it was going to be a new fave of mine (LOL!) and it was, imagine that! So the full size green polkadotted die cut sat on my desk and waited, and at that time I didn't know what I'd do with it, other than I didn't want to throw it out just yet. Then it hit me. I put the solid red cardstock behind it. Hmmm. LIGHTBUUUULB!
I got out my large
PENNANT CutUps Dies
and a Christmas tree was born! I wanted to keep the tree as the highlight of my card, so I kept is super simple and just added a couple of the sentiments from the new
SIMPLY HOLIDAY
set. The "happy" and the "hohoho" are two separate stamps. Alma's smart like that.
Ok, that's about it from me! Your next stop on the hop is my ultra crafty friend,
LISA
! See y'all soon! Y'all can check out all the new stamps and dies right
HERE at THE CAT'S PAJAMAS NEW WEBSITE.
SUSIE Q-TIP: Rhinestones on top of sequins are what I used to decorate the tree. The combo is extra sparkly just in case y'all were wondering.
Stamps: Simply Holiday (The Cat's Pajamas)
Paper: White, Black, Pure Poppy, New Leaf (PTI), Silver POW (AC), A Scrap of Brown
Ink: Licorice Black, Red Hot (MFT)
Accessories: Dot, Pennant and Holiday Toppers CutUps Dies (The Cat's Pajamas), Chevron Embossing Folder (Lifestyle Crafts), Licorice Divine Twine (The Cat's Pajamas), White Sequins, Adhesive Rhinestones, Foam Boosters
Finished Size: A2