Well, in all the commotion of the releases I've been involved in lately, I've slipped a little on showing off a card I made for
Verve.
I love, love, love
Verve stamps
with all my heart, as they give me a chance to go in a completely different direction with my style as opposed to a "stamp and color" image (although some from Verve still are and that's awesome, too!)
As a designer for the
Verve Diva Inspiration Team,
I get to play with a few of the older sets and combine them with some of the newer goodness from Verve. I LOVE THAT! This time, I used the older
Wishing You
set to create this clean and mod birthday card. The flower is from the newer
Surely Goodness
set that has coordinating dies for its flowers--
Goodness Flowers.
Ok, I have to take a minute to look at some
Jake Gyllenhaal pictures
. Don't ask....ok, I'm back. Just give me a minute to regain my composure. Don't mind the drool you see on my card.
Anyway, the sketch is the
Viva la Verve
sketch issued last Friday from one of our newest Verve Inspiration Divas,
Anya Schrier.
Get all the details on how to play along in our sketch challenges
HERE
on our SCS forum.
About the J. G. pictures--my oldest daughter made me look at them. She claims a new boyfriend of hers looks just like him.
SHE'S RIGHT!
He's a
KEEPER
!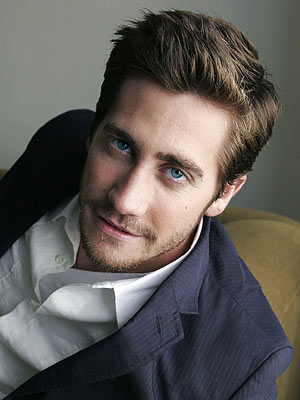 Think Happy Thoughts!!!
SUSIE Q-TIP
: When punching out small circles from a circle punch, keep them from leaping for their death to the floor by using your "chestal" area of your body to keep them on your desk in front of you. However, when one goes missing and you have a v-neck shirt on, don't forget to look for it "there". (Where's Jake Gyllenhaal when you need him?) Don't ask me how I know this. I don't want to talk about it.
Stamps: Wishing You, Surely Goodness (Verve)
Paper: White, Hawaiian Shores (PTI), Banana Split, Sour Apple (MFT), Dots and Stripes (Echo Park)
Ink: Brilliance Graphite Black (Tsukineko), So Saffron, Wild Wasabi (SU!)
Accessories: Goodness Flowers and Pennant Trim Dies (A Cut Above Dies by Verve), Corner Rounder, Paper Piercer/Mat Pack, Honeycomb Embossing Folder (SU!), Circle Punch, Adhesive Rhinestones, Jody Boosters
Finished Size: A2